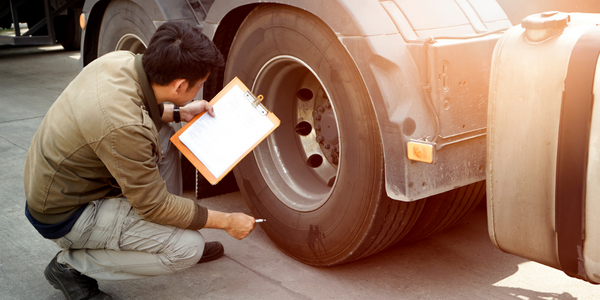 In a recent report published by DVSA, findings have shown that vehicles are issued 10 times more prohibitions after 3 months of their annual MOT tests. Even more concerningly, there is a 25% increase in prohibitions in the first month after an MOT alone. The report goes on further to explain that had regular vehicle maintenance, and thorough daily vehicle walkaround checks been carried out, 60% of HGV prohibition defects after the first 3 months of an MOT could have been reported and fixed. So what can you do to avoid this happening to you?
Who's responsible for the maintenance of vehicles?
It is the drivers' responsibility to make sure that a thorough daily walkaround check has been carried out before they start driving, to ensure their vehicle is roadworthy and for public safety. Not only is it a legal requirement to carry out a walk around check every day, but you also have to keep records of your daily checks for up to 15 months. Daily walkaround checks are done to keep drivers and other road users safe.
It is also important to check your vehicle, even if that vehicle has already gone out today with a different driver. Defects can occur on shifts and even when the vehicle isn't in use! Making sure every driver completes a walkaround check at the start of their shift eliminates any defects that could have occured in the time between drivers.
HGV drivers can be stopped by the DVSA or police at the road side. The DVSA checks that both drivers and vehicles are safe on the road and operating within driving laws and regulations, this includes checking the vehicles roadworthiness as well as tachograph compliance and load safety. It is the driver's responsibility to confirm load weight and having proof of their daily walkaround checks. Failure to provide this could lead to fines or prosecution for roadworthiness offences.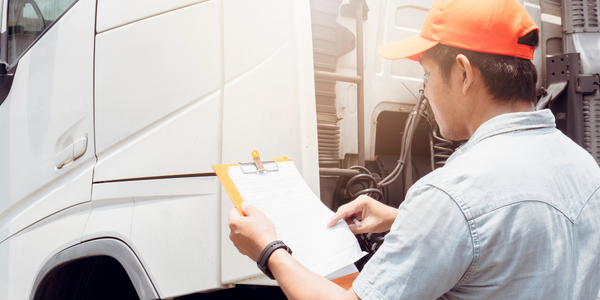 Tips on how to improve daily walkaround checks
1. Ensure enough time is given.
The DVSA recommend 15 minutes to carry out a full daily check. This ensures drivers have enough time to check all elements of their vehicle both inside & out. By ensuring you have enough time to complete a walkaround check, any defects that have occured recently will be spotted.
2. Switch to vehicle eDefect reporting software.
The majority of daily walkaround checks are usually done with pen and paper, and whilst this is still accepted, it can lead to lost papers, and delayed reporting of defects found. With vehicle eDefect reporting software drivers can do their walkaround check directly on their phone or tablet, record any defects found by recording more information and even taking pictures, then once they've completed a check, the transport office can be notified instantly of any defects found.
3. Make sure drivers know what to look for.
Doing a daily walkaround check should be relatively simple – providing you know what you're looking for! To make sure drivers' complete thorough checks, it's a good idea to make sure all drivers are trained correctly, to ensure they can easily spot any defects and they are confident enough to carry out complete checks every day. Making sure new employees are trained on company guidelines, and are aware how to use any company forms or software before they start is essential. It is also a good idea to provide refresher courses to all drivers to make them aware of any changes that may need checking or recording.
4. Check the height and weight of vehicles. 
The weight and heights of vehicles should be recorded as well as doing a walkaround check. Not only is this essential to ensure lorries aren't overloaded, but this also helps the drivers look for alternative routes should they need to avoid low bridges and height and weight restrictions throughout their journey. It is also a good idea to check this throughout a shift, especially if goods have been loaded on of off the lorry throughout the day.
5. Be prepared for unexpected issues. 
Sometimes things go wrong! Even if a thorough walkaround check has been completed, doesn't mean to say that defects won't appear throughout the day. Make sure drivers' know processes and procedures if they spot a defect occur in the middle of the shift and who to report it to, and if it makes the vehicle unroadworthy, make sure it is reported as soon as possible. 
For more information on what should be included in a walkaround check, go to DVSA's guide.