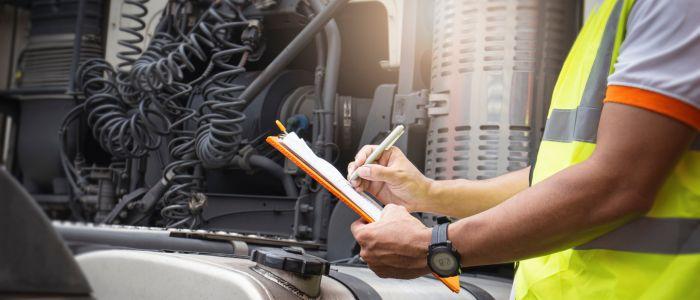 It is a legal requirement to carry out a daily walkaround check on all lorries and other HGVs before any journey to ensure that vehicles are roadworthy and safe to drive. Up until a few years ago, using pen and paper to log walkaround checks has been the norm. However, in recent years, technology has meant that more people are turning to carrying out their daily checks on their phones. But what benefits do you gain from digital vehicle checks?
Reduce paperwork and lost documents
Whilst pen and paper can sometimes work out cheaper in the long run, there are many other benefits to going digital when carrying out daily vehicle walkaround checks. 
Firstly, using digital vehicle checks means you can reduce paperwork and say goodbye to lost pieces of paper. When drivers use an app to carry out their daily checks, all logs are kept in one place and sent straight to the transport manager once checks have been completed. When using software such as vehicle-check, completed checks are sent and stored online and can be accessed through an online dashboard, and any defects reported are shown instantly to the transport manager.
When using our vehicle-check app, drivers can view their last 14 days' worth of checks and look back on any outstanding defect they have reported, meaning no more searching for scrappy bits of paper to review previous checks. 
When using pen and paper, there can be a big delay in reporting between logging a defect and making the transport office aware of the defect. With a vehicle check app, once a check is logged, it can be instantly sent to the transport office. That means that the transport office can then make sure that any defects are fixed as soon as possible. When using pen and paper, it has been the case where these don't get shown to the transport office until the end of the day, when a driver goes back to the depot, which could result in a delay in defect reporting too. 
Going digital also means that transport managers have more data and insights too. When using vehicle-check, all checks are time and location-stamped. This means that fleet managers are able to view exactly when and where checks are taking place, as well as how long drivers are taking to complete vehicle checks.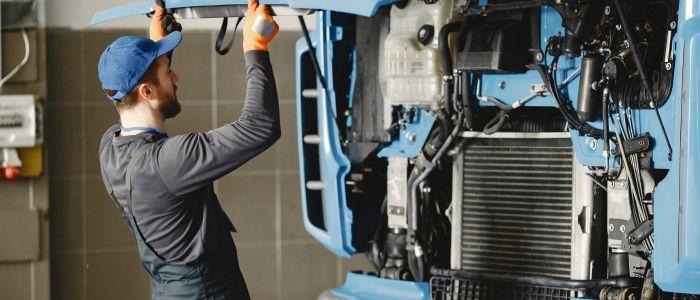 Reduce vehicle downtime and save time
A big benefit to using a digital walkaround check app is that fleets can reduce their vehicle downtime. When a defect is reported, custom alerts can be set up to go to anyone needed. This could be a transport manager, garage or workshop, so they can see all the information about the defect logged, and book any work that needs to be carried out to maintain vehicle safety. 
Drivers can also close their own defects within the vehicle-check app. Sometimes drivers can fix some minor defects without needing to go back to the depot or being booked into a workshop. Drivers can now log a defect and mark defects as resolved by adding photos and comments through the app, meaning that no more time is wasted with unnecessary trips back to the depot.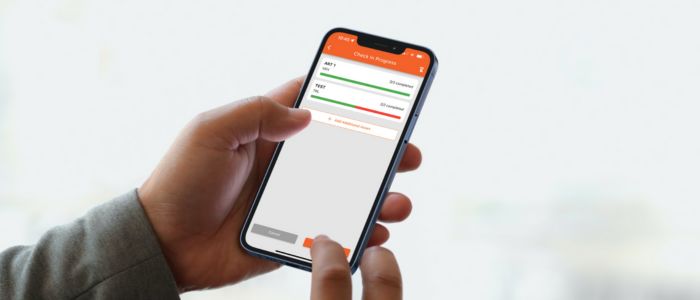 As well as a standard walkaround checklist, a  benefit to having digital checks is that you can create bespoke questions for any vehicle. This can be especially useful with mixed fleet or specialist equipment that needs checking as part of your daily walkaround check. Vehicle-check allows users to create as many questions and checklists as required so you can carry out checks on all of your fleet's vehicles, from cars, vans and even warehouse vehicles such as forklifts with ease. 
We include incident reporting free of charge with vehicle-check. It's the feature we hope you'll never need, but we know that accidents happen. Drivers can log incident reports to include images, notes, witness statements, emergency services involved and more at the roadside. Each report is time and location stamped and sent instantly to the transport office when an incident is logged and when and where it happened.

Learn more about vehicle-check
Vehicle-check is an app that allows drivers to carry out their daily vehicle walkaround check straight from their mobile phone. Available on iOS and Android devices, the app can record daily checks and log any defect with comments and photos, which can be reported directly to the transport office. 
This allows transport operators to arrange repairs and any maintenance that may be needed quickly, meaning that vehicles spend less time awaiting repairs and more time on the road. 
Vehicle-check also allows a complete paper trail from the first walkaround check through to maintenance carried out, thanks to document uploads within vehicle-check. 
For a free 28-day trial, get in touch today.